รายละเอียดเพิ่มเติม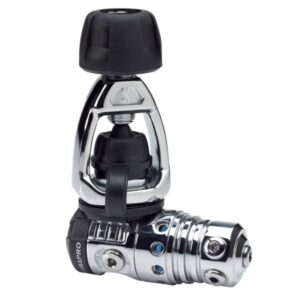 First stage
Air balanced flow-through piston in a chrome plated brass body provides constant and effortless airflow unaffected by depth, tank pressure, or breathing rate.
Patented XTIS (Extended thermal Insulating system) thermally insulates the inner mechanism from the environment, improving cold-water resistance and delaying ice formation in extreme cold-water conditions without compromising breathing performance.
Anti-freeze protection radically increases breathing reliability when diving in the most extreme water temperatures.
Two high pressure ports allow the first stage to be positioned either up or down.
Four high-flow and one axial super high-flow low pressure ports on a swivel turret.
External intermediate pressure adjustment enables technicians to fine-tune performance quickly and easily.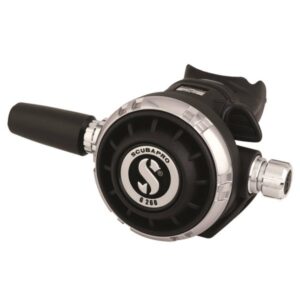 Second stage
Air balanced second stage.
Rugged reinforced technopolymer.
Metal components (inlet tube, orifice, inhalation control knob and hose connector) increase resistance to freezing when diving in extreme conditions.
User controls include a diver-adjustable inhalation effort knob and Venturi-Initiated Vacuum Assist (VIVA) dive/pre-dive switch.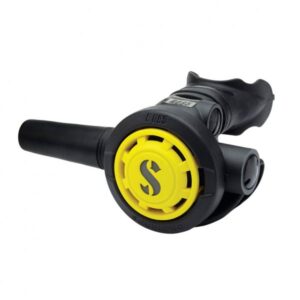 Octopus
Rugged reinforced technopolymer casing is fitted with a large diaphragm for the ultimate in breathing sensitivity, regardless of position in the water.
Classic downstream valve.
Metal valve housing is built rugged and increases overall reliability.
Preset inhalation and Venturi-Initiated Vacuum Assist (VIVA) provides hassle-free air delivery.
Reversible hose attachment makes it easy to use for sidemount, pony or deco tanks.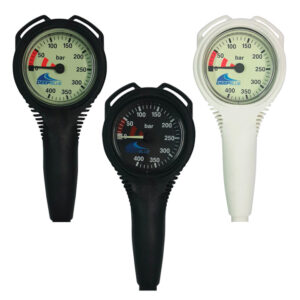 Gauge
Slimline pressure gauge with boot
Rated to 400bar
Luminous dial for visibility
75cm HP Hose